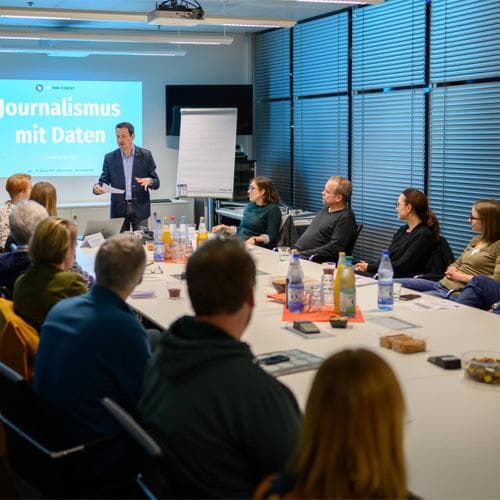 Rent a Squirrel: Data Workshops for Journalists
On our events page you can find the currently offered workshops.
People who work with data can find stories that remain hidden from others - and tell them differently. Confidence in dealing with statistics and data analysis opens up new worlds of information sources and presentation style. Data-driven journalistic research finds exclusive stories and offers a factual perspective on emotionally driven debates. Data-driven journalistic formats load dry topics with excitement by translating complex facts into simple graphics or comparisons. At a time when governing bodies and businesses make decisions based on statistics, data-driven journalism builds an important bridge to interpreting the statistics relevant to those decisions, making it possible to intelligently question, show trends, initiate new debates and create new approaches – with a wide variety of possible topics and forms of presentation.
Our interdisciplinary team of journalists, developers, statisticians and designers will provide you with the necessary tools for the data jungle, no matter whether you are a journalist, a student or a volunteer. Our trainers have a lot of experience in teaching data journalism skills and work daily on data journalistic analyses and graphics for Zeit Online, Deutsche Welle and ZDF.
Our Workshops
In our workshops, we provide training in the various tools, programming languages and methods employed in data-driven journalism – individually tailored to the needs of our participants.
Topics include:
Data Journalism Basics
Statistics Skills
Data Research & Analysis
Web Scraping
Data Visualisation
Story Finding and Implementation
Programming
You can find the workshops we are currently offering to the public on our events page. Nothing suitable there? You can also request a workshop for your newsroom by using our contact form or emailing us at [email protected] We look forward to hearing from you!
Do you have a question about Journocode's events? Would you like to request a workshop tailored specifically to your team's needs? Are you interested in data journalism and have a more general question?
Feel free to use the contact form below or email us directly at [email protected] We look forward to hearing from you!